Gourmet Wine Jellies - 6oz round Jars $5.50
Gourmet Wine Jellies - 4oz round Jars (limited availibility) $3.50
Cabernet Sauvignon wine jelly is full-bodied, with hints of cherry, blackberry, and plum. This wine jelly compliments beef, and pork. Try it in marinades, glazes, sauces, and salad dressings. Cabernet goes great on all the usual suspects (toast, crepes, and croissants) and is especially good with chocolate. Try some on chocolate ice cream for dessert.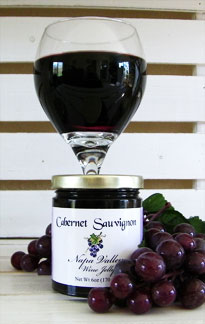 6oz Cabernet Sauvignon


4oz Cabernet Sauvignon


---
Chardonnay
With subtle hints of apple, pear, and oak, Chardonnay wine jelly is medium bodied with a crisp clean finish. Golden, pure, and delicious, this wine jelly compliments pork, chicken, grilled meats, sea food and pastas. Try it in sauces, marinades, BBQ sauces, pasta sauces, and as a glaze for pork.
6oz Chardonnay


4oz Chardonnay


---
Merlot is similar in color to the Cabernet Sauvignon, but the taste has a subtle difference. As with all of our wine jellies, Merlot makes excellent sauces, and glazes. This is a delicious jelly that is meant to be eaten and enjoyed at any time of the day. If you have that craving for peanut butter and jelly, this is one of our favorites. Or mix it with some cream cheese for a delicious bagel spread. Another fun idea is to use the Merlot & Cream Cheese spread as a frosting or filling for pound cake. When you cut and serve it, just sprinkle on some very fresh blueberries, blackberries or strawberries for a quick delicious dessert.
6oz Merlot


4oz Merlot


---
Rosé
6oz Rosé


4oz Rosé


---
Champagne

---
Pinot Grigio

---
Pinot Noir

---
Sauvignon Blanc

---
Syrah

---
Cinnamon Chardonnay on your toast in the morning is like a little piece of apple pie for breakfast. Mixed with your cream cheese, this makes a perfect frosting on carrot or spice cake. And don't laugh, but Cinnamon Chardonnay and peanut butter makes a wonderful snack.

---
Cranberry Chardonnay is versatile enough to use in place of canned cranberry sauce with your Thanksgiving dinner, or bake it into desserts. The "Wine Jelly Dandies" recipe featured in our recipe and serving suggestions is especially good with this flavor of jelly. It's also great as a topping for your plain cheesecake. Alternate it with Pumpkin Chardonnay prior to cutting and serving the cake for a quick and colorful dessert.

---
Ginger Chardonnay

---
Pumpkin Chardonnay doesn't have a spec of "pumpkin meat" in it but it will definitely give you a taste reminiscent of pumpkin pie. Mixed with cream cheese it's another great frosting for carrot or spice cake. Don't forget to try it as a spread on top of pumpkin or zucchini breads.