4 Jar Gift Box - $20.00
Our wine jelly gift box contains four 4oz jars of our most popular wine jellies Cabernet Sauvignon, Chardonnay, Merlot, and Rosé in a craft box. This gift box comes with a cheese knife, and is decorated with a ribbon. It would make a great gift for any holiday or special occasion.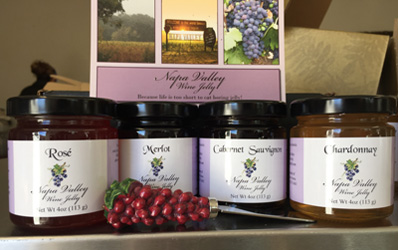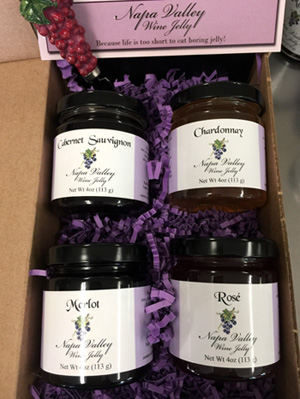 ---
4 Jar Gift Box - $28
Gift boxes contain four 6oz jars of wine jelly. All gift box selections are packaged in gold boxes with brightly colored, crinkled paper excelsior cushion. Gift enclosures are available for any holiday or special occasion and may be customized for each order.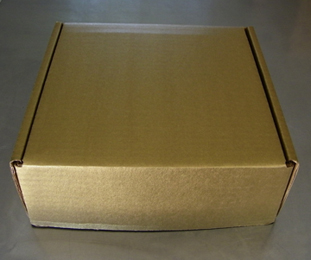 ---
Signature Series Gourmet Gift Box
The Signature Series gourmet jellies are made from wine with no other outside flavor influences. Each of our "signature flavors" will taste great on everything from toast to crepes to croissants.
Cabernet Sauvignon • Chardonnay • Merlot • Rosé
Be sure to try them for dessert over vanilla ice cream. Cabernet Sauvignon and Merlot go great with chocolate. They are also delicious over cream cheese as an appetizer, or with bagels and cream cheese for breakfast.

---
White Wine Lovers Gift Box
Chardonnay • Pinot Grigio • Sauvignon Blanc • Champagne

---
Red Wine Lovers Gift Box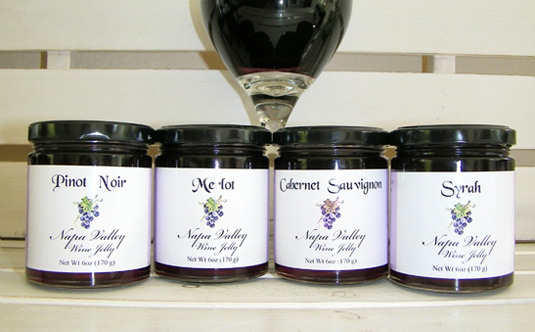 Cabernet Sauvignon • Syrah • Merlot • Pinot Noir

---
Harvest Collection Gift Box
The Harvest Collection will immediately bring to mind those magical seasons that are between "Halloween and the New Year," when the year is at its end, and everyone is enjoying the fruits of their spring, summer and fall labors. The collection flavors are the perfect hostess gift for that special time of year, but equally delicious all year 'round.
Champagne • Cinnamon Chardonnay • Cranberry Chardonnay
Pumpkin Chardonnay